Built from the ground-up for Mac and not a PC port, the Aobo keylogger is the only keylogger for Mac designed to capture two-sided social network chats which allows users to see messages received as well as sent. The interface and installation are simple, simply select the type of reports you would like to see and whether or not you want the keylogger to run invisibly. Once installed the Mac keylogger will invisibly send all keystrokes, screenshots, chats and passwords to the e-mail address of your choice.
A customized and password protected hotkey combination can optionally be created for users who prefer to access the keylogger locally, and users can also specify whether they would like to monitor all users or specified users which is useful for parental controls. One can install the Aobo Mac keylogger on multiple machines as per the License.
Remove Mac Apps
Q: What are the additional benefits along with purchase of Aobo Mac Keylogger? A: This platform is absolutely secured and hacker-safe. The payment transactions are done here on a globally renowned and trusted online Payment System. Aobo Keylogger is a safety-verified application that records keyboard input including passwords while remaining totally undetectable to the normal user. It is easy to set up the program to store logs of keyboard activity according to your preferences and the resulting reports can be delivered via email.
Apple Footer
If you need to monitor the activities of your computer's other users then Aobo Keylogger provides a safe stealthy and effective way of viewing every keyboard event. Aobo Keylogger for Mac Standard, the invisible keylogger for Mac OS X with multiple-user support, has the ability to monitor all the activities on the targeted Mac, including keystrokes typed, IM chatting conversations entered, comments posted on social media, websites visited and so on.
Aobo Keylogger for Mac Standard secretly sends log reports to your Email box in interval for remote log viewing.
visio compatible software for mac.
Publisher's Description;
Aobo Keylogger Professional for Mac - latest version free download ⭐⭐⭐⭐⭐.
Free Keylogger for Mac OS X – logkext?
mac air vs mac pro comparison.
A good parental control tool for Mac. Aobo keylogger for Mac standard was easy to use. I once used it to monitor my children's Mac comp uter activities. I can check the logs via my email. Easey to use.
Aobo Mac OS X Keylogger - Download Free
Pros: Work in stealth. Check logs easily More. Aobo Mac keylogger is invisible spy software for Mac. It logs keystrokes, websites, chats and takes screenshots.
It offers three day free trial. Just have a try.
Aobo Mac Keylogger Std Installation and Configuration Guide
Pros: Record Passwords. Cons: none More. Do better in parental control!. It's a very powerful keylogger that helps me a lot in tracking what my son does on his Mac.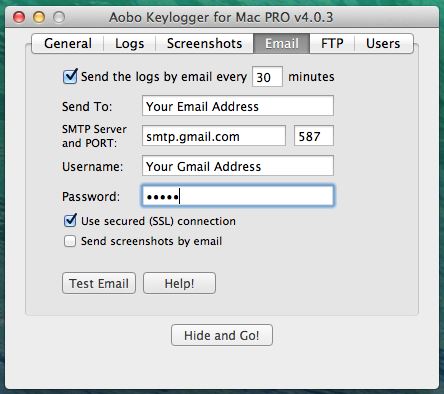 Now my husb and and I know more about him and do better in parental control.